1. machine beschrijving
De machine is een soort van één kant roterende tablet press machine die granulaire materialen in ronde vorm tabletten, onregelmatige tabletten of dubbele-side gegraveerde tabletten kan drukken. Deze machine wordt voornamelijk gebruikt in de farmaceutische industrie, chemie, levensmiddel, elektronische industrie.
2. sommige technische functies
1) gemaakt van roestvrij staal, de behuizing is volledig gesloten. Het oppervlak van de roterende koepel is bedekt met een gehard laag zodat het torentje oppervlak slijtvast is. De machine voldoet aan de GMP-voorschriften.
2) vaststellen van transparante vensters, Narcotics staat waarneembaar duidelijk. De Vensters kunnen worden geopend, reiniging en onderhoud is eenvoudig.
3 versnellingen aangepast door frequentieomvormer, de motor is vastgesteld op de grondplaat, de motor trilt tijdens werken voorkomen.
4) de bovenste en onderste geleidingen en stempels worden gesmeerd met een intermitterende vaste lage stroomsnelheid automatische smeerolie systeem zodat de slijtage van de geleidingen.
5) hydraulische overbelasting bescherming apparaat is uitgerust, de machine kan automatisch stoppen in het geval van overdruk te behoeden voor de punch pinnen geschaad.
6) A-druksensor met hoge precisie is uitgerust met een versterker voorzien van wint en zelfcontrole functies zodat de zelfcontrole van de Tablet PC compressie druk op betrouwbare wijze te implementeren. Het tablet gewicht controlesysteem is eenvoudig te bedienen en voorzien van de functie van afwijzing gedegradeerd tabletten in batches of individueel.
7) dubbele waaier type kracht feeder, stroombaarheid van granulaten te verbeteren en vullen prestaties, zorgen de precisie invullen.
3. belangrijkste technische parameters
| | | | | |
| --- | --- | --- | --- | --- |
| Model | GZP(K)-26 | GZP(K)-32 | GZP(K)-40 | GZP(K)-44 |
| Dies | 26 | 32 | 40 | 44 |
| Tooling standard | D | B | BB | BBS |
| Max. Main pressure | 80KN | 80KN | 80KN | 80KN |
| Max. Pre-pressure | 20KN | 20KN | 20KN | 20KN |
| Max. Dia of Tablet (mm) ( Round tablet ) | 25 | 18 | 13 | 11 |
| Max. Dia of Tablet (mm) (Irregular tablet) | 25 | 19 | 16 | 13 |
| Max. filling depth (mm) | 16 | 16 | 16 | 16 |
| Max. tablet thickness (mm) | 6 | 6 | 6 | 6 |
| Max. Capacity (pcs/h) | 140000 | 192000 | 264000 | 291000 |
| Motor power | 7.5KW | 7.5KW | 7.5KW | 7.5KW |
| Dimensions | 1380*1200*1900mm | 1380*1200*1900mm | 1380*1200*1900mm | 1380*1200*1900mm |
| Weight | 1750kg | 1750kg | 1750kg | 1750kg |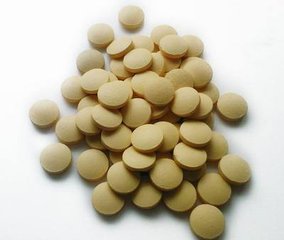 Product Categorie : Voorbereidingen machines > Tablet-machine drukken